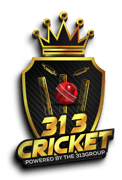 Terms and Conditions
Welcome to 313Cricket!
These terms and conditions outline the rules and regulations for the use of 313Cricket's, located at https://www.313cricket.com.
No selection is guaranteed.

It is only the responsibility of the coaches and management to select the players on merits.

No interference shall be accepted from any outside parties other than the individual player himself/herself regarding cricket matters.

If anybody would like to make a positive or negative comments regarding 313Cricket then please feel free to email feedback@313cricket.com, the information supplied for the above will be appreciated by us at 313Cricket to making improvement.

Please remember this is a "TALENT HUNT" it is in the phrase itself we will select people in accordance with their Talent.

Players who are giving files for 313Cricket will be responsible for their paper work and entry, 313Cricket will not take any responsibility for any kind of injury / Damage or lost of property or other in anyway.

Kindly provide your authentic original legal documents in case of fake documents and IDs persons will be treat according to the Law.

You as individual will take your own responsibility in any partisapating of 313cricket as you are on your own accord sharing information which may be personal and private as well as giving trials with NO guarantees of selection.

Matches for all age groups and districts will be arranged time to time when the talent hunt is deemed as complete in the given district.

Management and coaching staff will have a final say on all cricket related matters. Only can be overruled by joint chairman and directors who have been given permission and final decision to be made on merit of talent and performance by CEO of 313 cricket.

Management and directors may decide to change rules and terms and conditions as they see necessary with out notice in the best interests for 313cricket.